Dekton by Cosentino is an engineered stone and contains a mixture of raw materials that is used to manufacture glass, porcelain materials and quartz surfaces. Dekton can be used both indoors and outdoors.
Dekton is the most scratch resistant surface on the market although the use of chopping boards is still recommended. With a high resistance to UV light it will not fade or degrade over time, this makes Dekton a perfect choice for indoor and outdoor use. Whilst other surfaces are stain resistant Dekton is completely stain proof. As Dekton has low porosity and contains no resins it is chemical resistant, so splashes or drips of household products containing bleach will not harm the surface. Dekton can withstand high temperatures without burning, cracking or scorching and hot pans can be placed directly onto its surface without causing any damage.
Dekton is non-porous and never needs to be sealed. It naturally prevents liquids from penetrating its surface making it low maintenance and easy to keep clean with soap and water. Dekton is resistant to  any abrasions and the surface will never need to be re-surfaced or re-finished.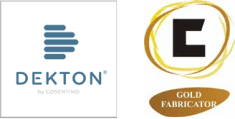 Uplifted my kitchen, great choice friendly reliable staff throughout and fantastic end product! Will certainly be using you again.
A massive thank you for the marvellous granite and great fitting service, the finished worktop looks fantastic in place.
I have nothing but praise for Stone Connection – good value for money and excellent service, they were extremely attentive to my needs at all times from the office staff to the guys who came out to measure up and install the worktop. I am more than happy to recommend them to anyone.