There is a range of worktops materials that you can choose from, all with different benefits, looks and finishes. This guide will help you understand the different types of worktops that are available to help you make a decision to work out which one is best for your kitchen.
Granite Worktops
Granite worktops are one of the most popular materials used in kitchens. They are strong, durable and heat resistant which makes them ideal for use in areas where there is likely to be a lot of cooking or entertaining happening. They also have a beautiful, natural look that can really add value to your home.
Granite is an igneous rock which is formed over millions of years under the earth's crust. During its formation, the magma cools down beneath the surface creating large crystal formations, which produce a variety of different colours and textures which gives a virtually unlimited choice for granite styles.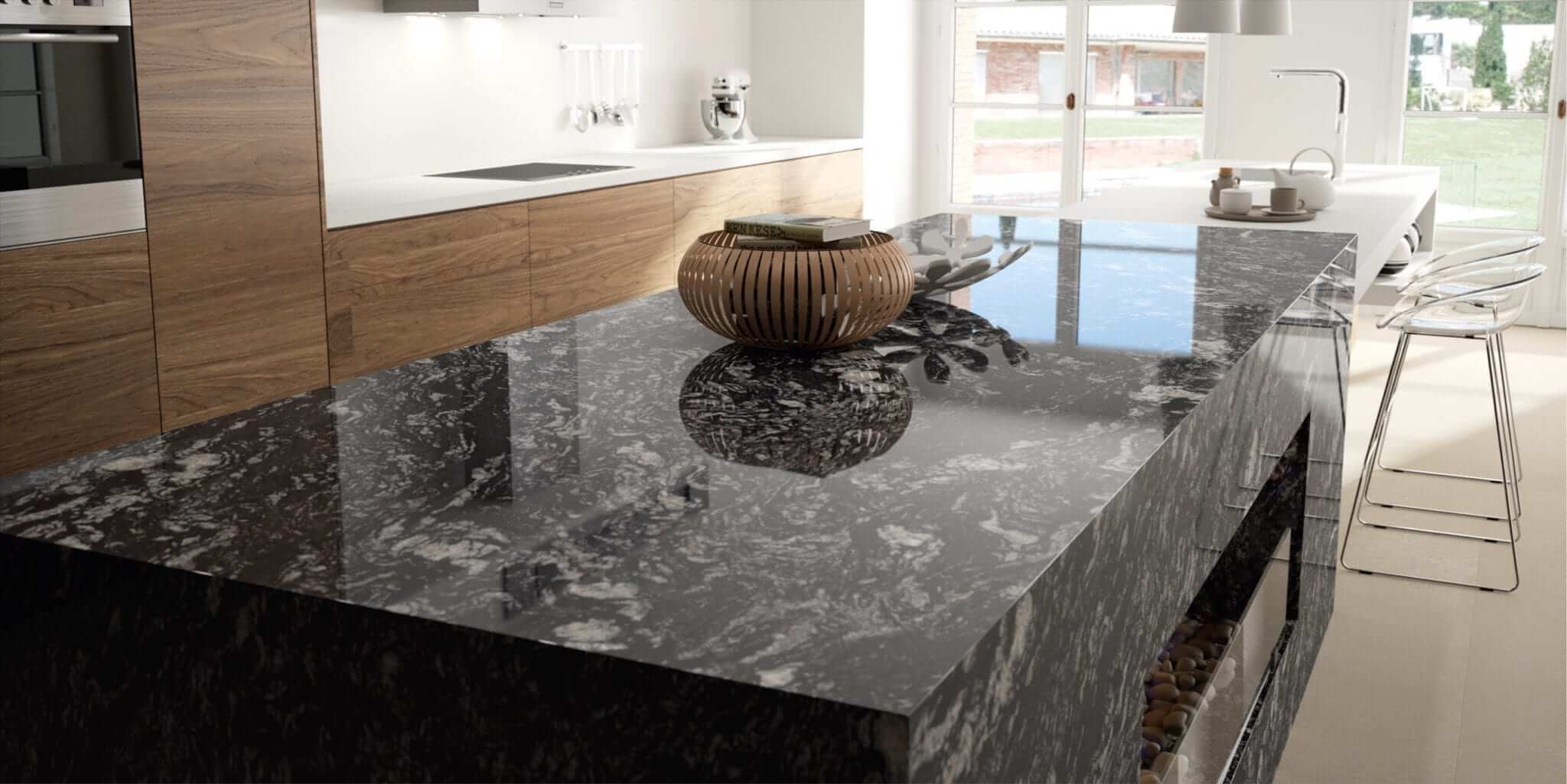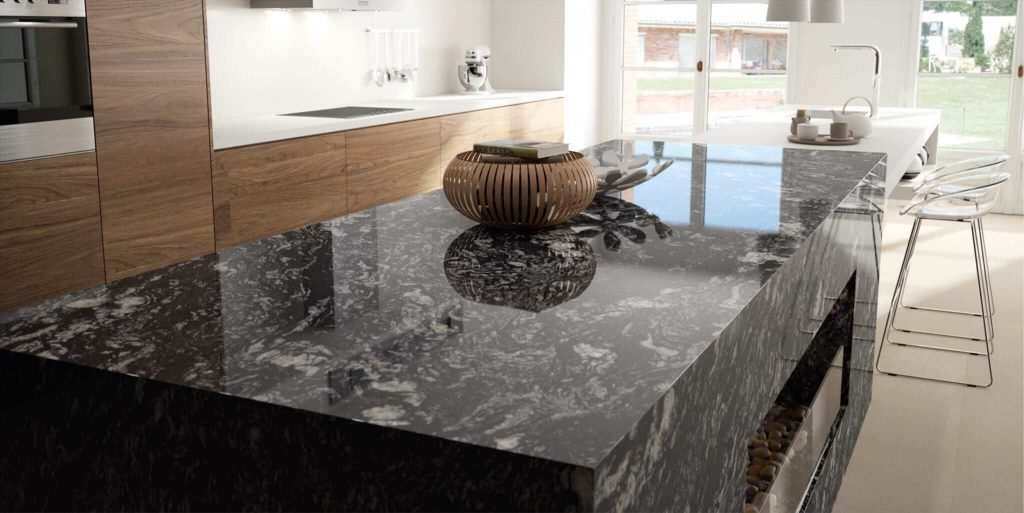 Quartz Worktops
Quartz worktops are man-made from one of the hardest minerals on earth, quartz. Quartz is mixed with pigments and resins to create a worktop that is very strong, durable and heat resistant making it ideal for use in the kitchen.
Quartz worktops are a great alternative to granite as they offer a wide range of colours and styles to choose from, and are usually cheaper than Granite. They are also non-porous so they resist stains and are very easy to keep clean.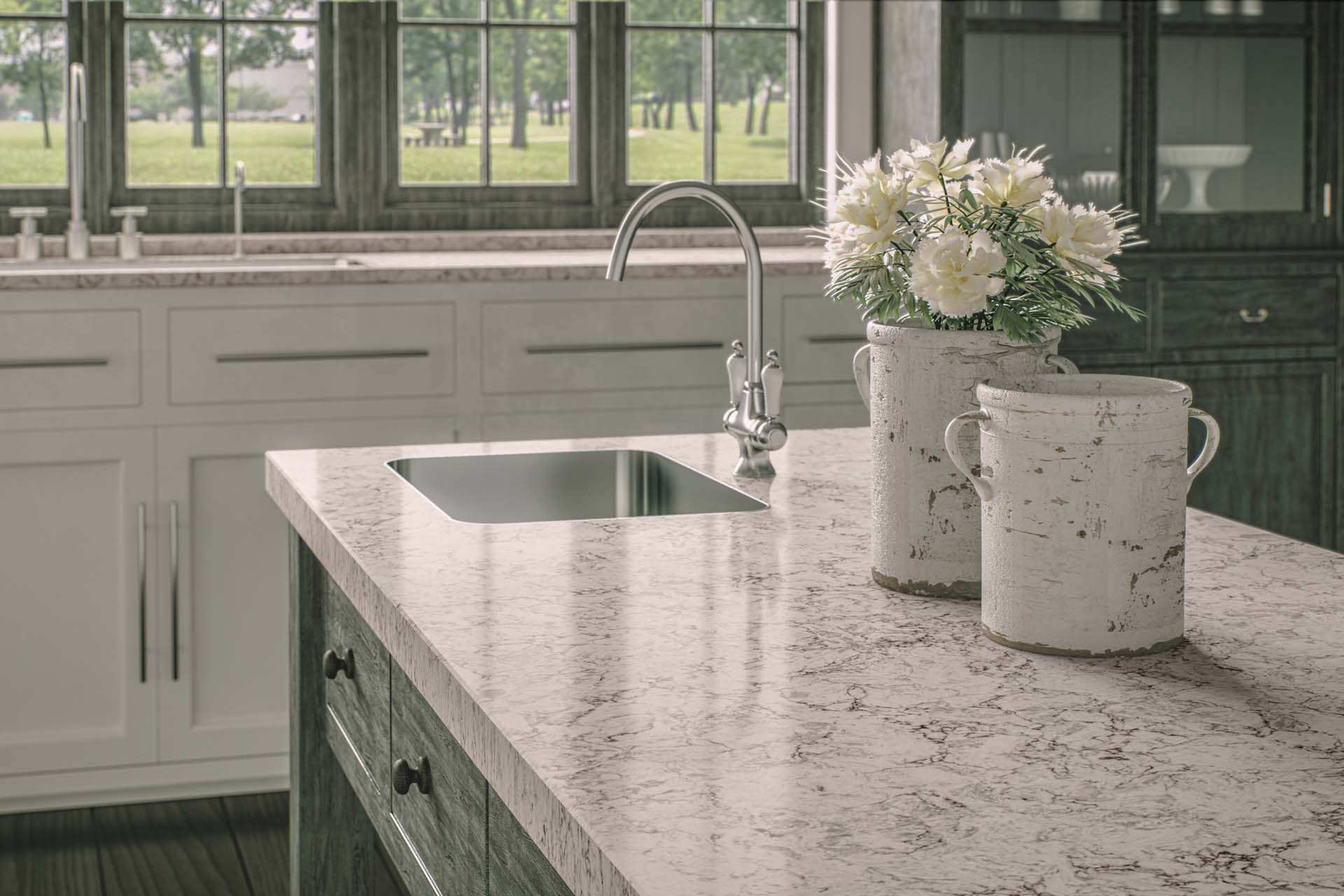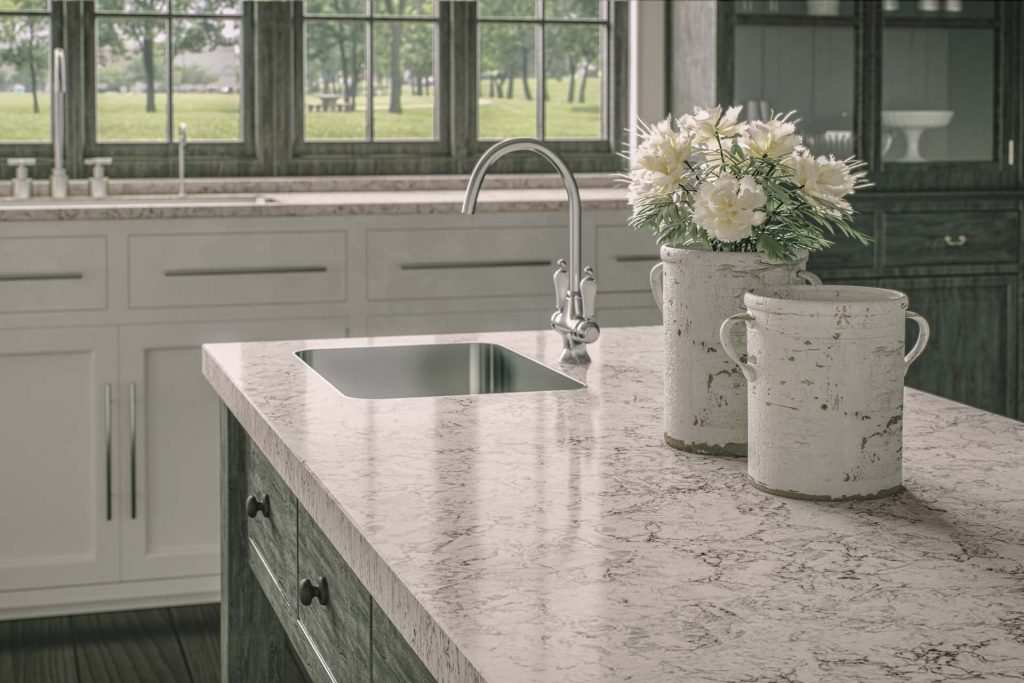 Silestone Worktops
Silestone worktops are in short, an advanced version of quartz. They are made from about 93% quartz, making them very strong and durable, however, the benefit of Silestone Worktops is that they are built with antibacterial protection, making them a very hygienic surface for kitchens or even bathrooms.
Silestone also has a non-porous surface, making it highly resistant to stains from things like coffee, wine, lemon juice or a number of other everyday spills and stains.
They come in a wide range of colours and styles, though are usually more expensive than granite or quartz. Despite this, many people believe they are worth the investment as they will last a lifetime.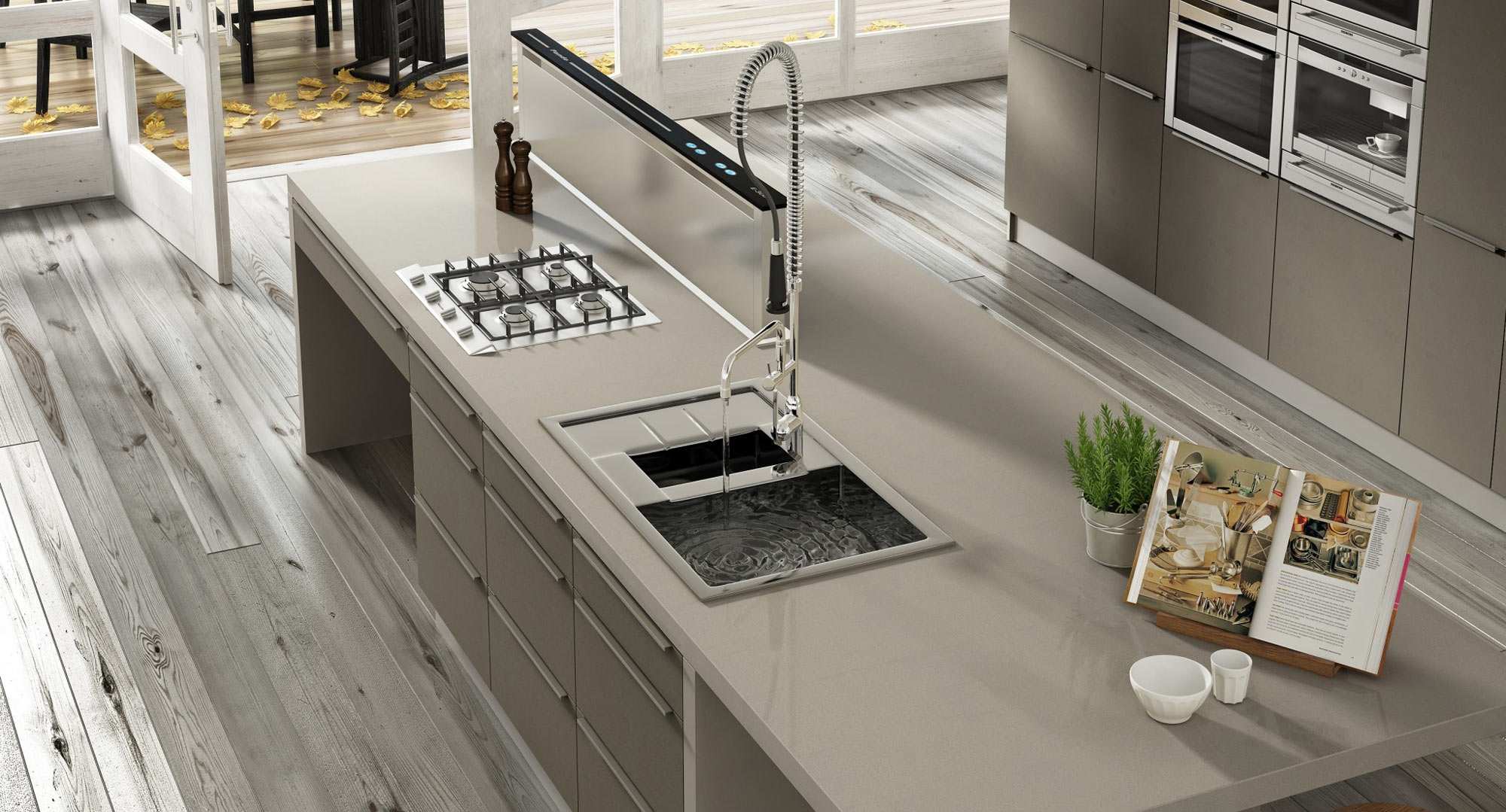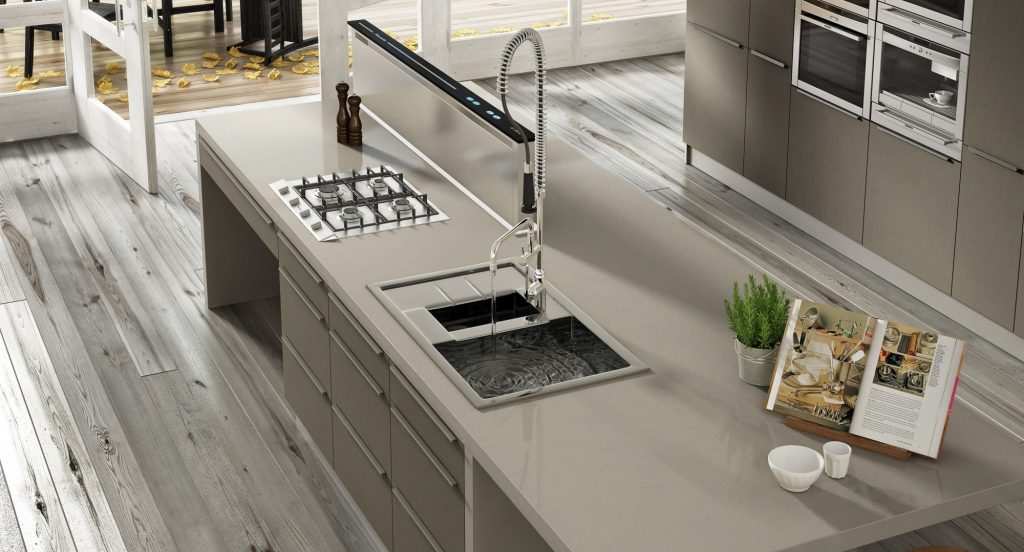 Caesarstone Worktops
Caesarstone worktops are made up of 93% quarts and 7% polyresin. They are non-porous, making them very stain-resistant and easy to keep clean. They are also heat resistant and can withstand high temperatures without being damaged.
Caesarstone worktops come in a wide range of colours and styles to suit any kitchen. All Caesarstone worktops come with a 15-year guarantee.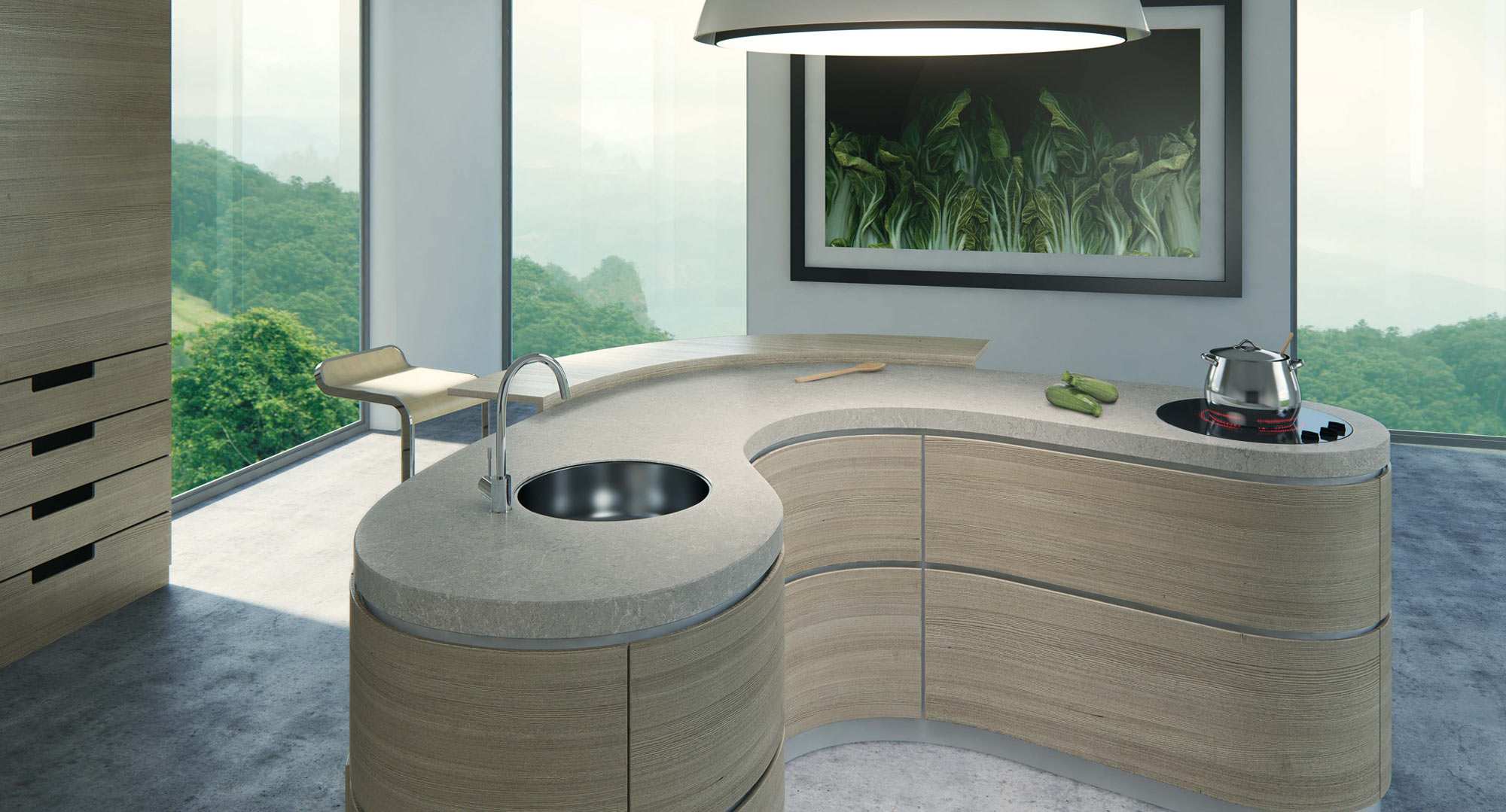 City Collection Quartz
Stone Connection has introduced its own range of Quartz – The City Collection, which comprises 12 stunning colours to provide a broad spectrum of choices to complement any kitchen or bathroom, available in both 20 and 30mm thickness.
City Collection Quartz is a man-made stone that combines 90% ground quartz with 10% resins, polymers and pigments, which when combined together, produces a very hard and beautiful granite-like surface. The appearance of the worktop depends on how the quartz is ground, either coarsely or finely which produces either a flecked appearance or a smooth look respectively.
The City Collection Quartz is a fantastic option as it is extremely hard and durable with a glossy finish while maintaining non-porous properties to prevent stains and cracks. Available in a range of colours and easy to clean with mild soap, water and a cloth.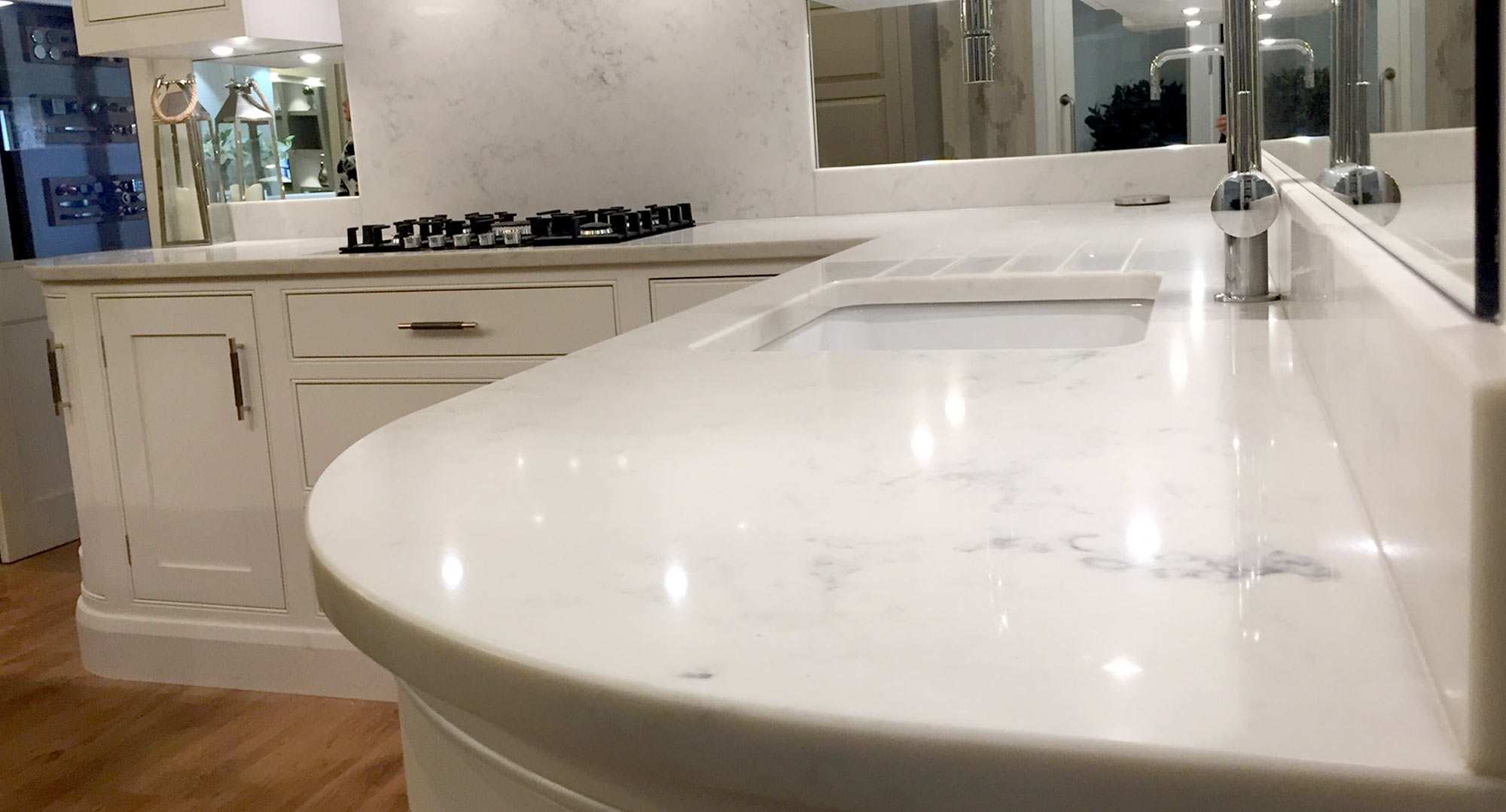 Dekton Worktops
Dekton worktops by Cosentino are a speciality engineered stone that contains a mixture of raw materials that are combined to manufacture glass, porcelain and quartz-like surfaces.
Dekton worktops are the most scratch-resistant on the market (though, a chopping board is still always recommended). They also have a high resistance to UV light which prevents fading or degrading over time which makes them perfect for use outdoors. While most worktops are considered "stain-resistant", Dekton are completely stain-proof due to its non-porous properties making sure its surface repels liquids and ensures that it is easy to clean.
Additionally, Dekton worktops can withstand high temperatures without burning, cracking or scorching meaning hot pans can be placed directly onto its surface without causing any damage. Dekton worktops are also resistant to any abrasions and the surface never needs to be re-surfaced or re-finished.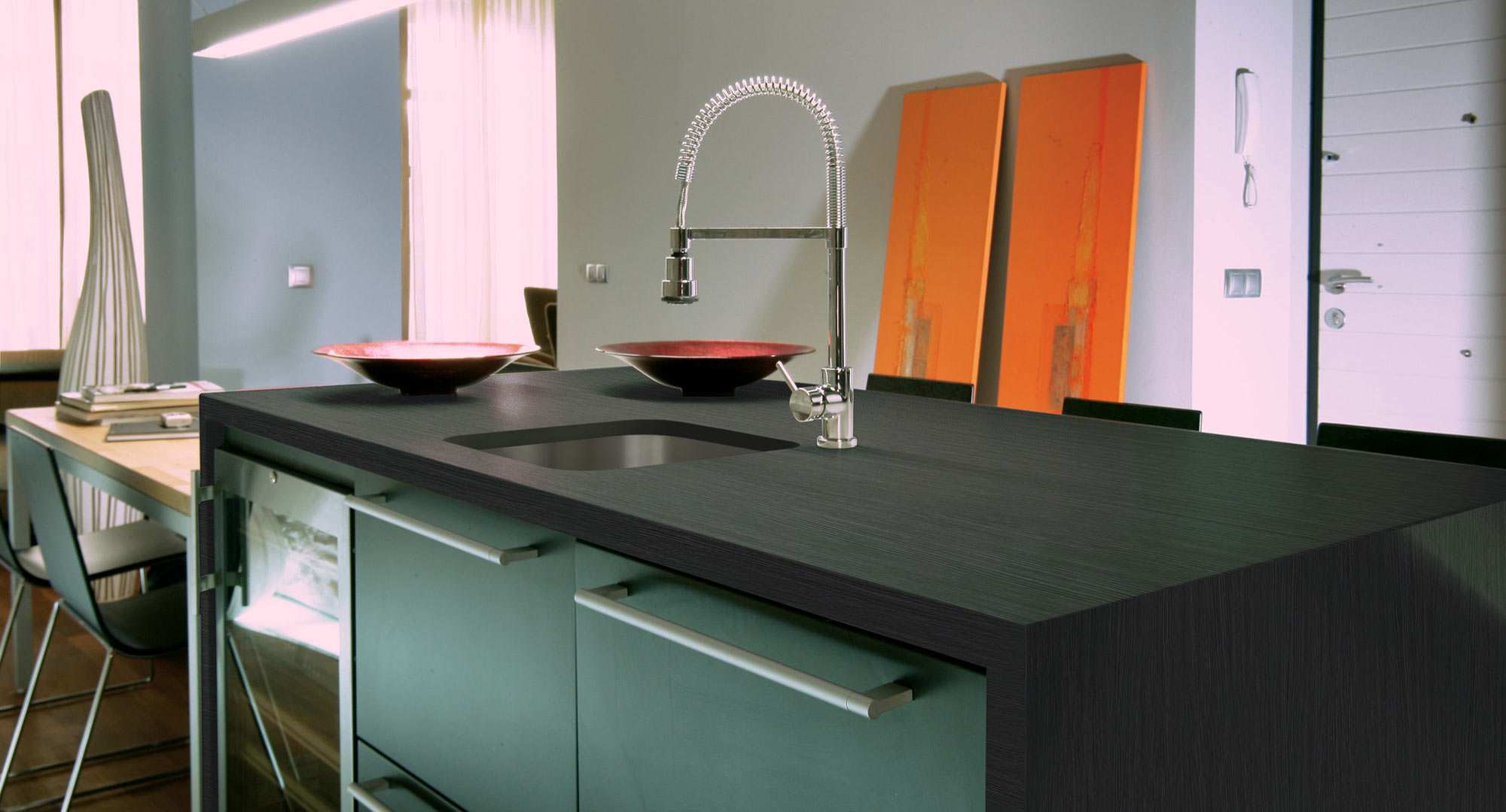 Lapitec Worktops
Combining the hardness of porcelain with the natural minerals from stone without any of the resins comes Lapitec Worktops.
Lapitec is a unique product and is now defined as a Sintered Stone. It is a fantastic example of a construction material that has been developed by years of research and advanced scientific manufacturing techniques.
Laptiec Worktops are only possible due to obtaining the most highly refined natural constituents, and by controlling the physical and chemical environment of aggregation and crystallisation during manufacturing to a degree that has not been possible before.
The composition of Lapitec Worktops is made up of 100% minerals, with no resin or hydrocarbon-based binder components. The mineralogy is similar to that of granite, but with a tight, cryptocrystalline structure that looks more like Porcelain. Lapitec is extremely tolerant to high temperatures, and frost and is unaffected by moisture.
Additionally, it is resistant to UV light, acids, alkalis, abrasions and everyday wear and tear and all worktops have bio-care applied as standard.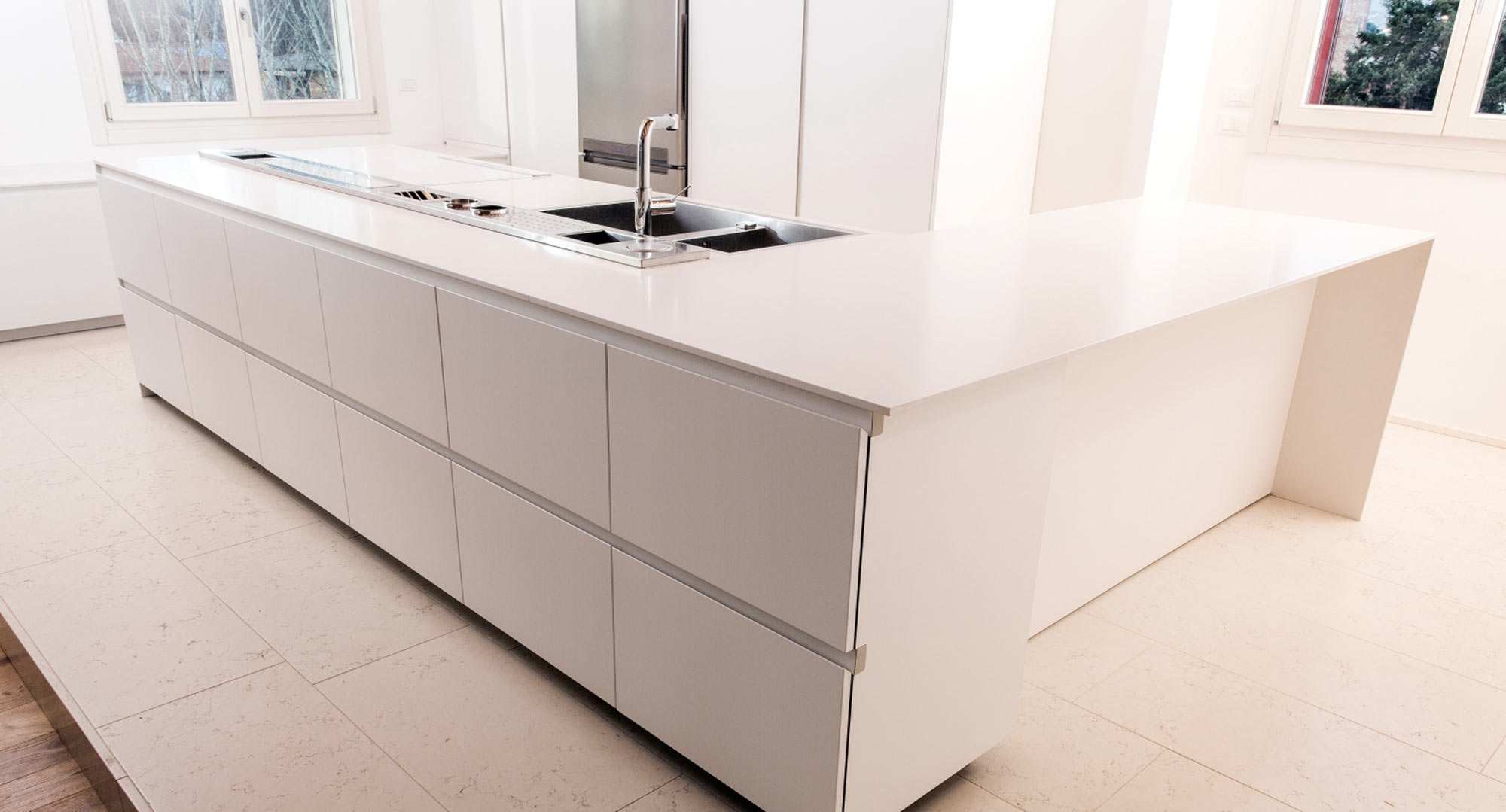 Neolith Worktops
Neolith Worktops are absolutely packed with benefits and features. The neolith worksurfaces are ultra-compact and extremely durable, making them perfect for countertops, floors or even as siding for interior or exterior walls.
The Neolith brand is a breakthrough, high-tech, ultra-compact slab that makes the most demanding architectural projects easy – offering the ultimate combination of functionality and beauty for interiors, exteriors and furnishings.
It is extremely rigid, with high flexural strength while maintaining lightweight properties which makes it easy to install. It is highly resistant to both scratches, wear and tear, fire and high temperatures. Additionally, it is waterproof with a near-zero absorption, both freeze and thaw resistant while making it suitable for direct food contact. Lastly, it is friendly to the environment as it is both 100% natural, 100% recyclable and easy to clean.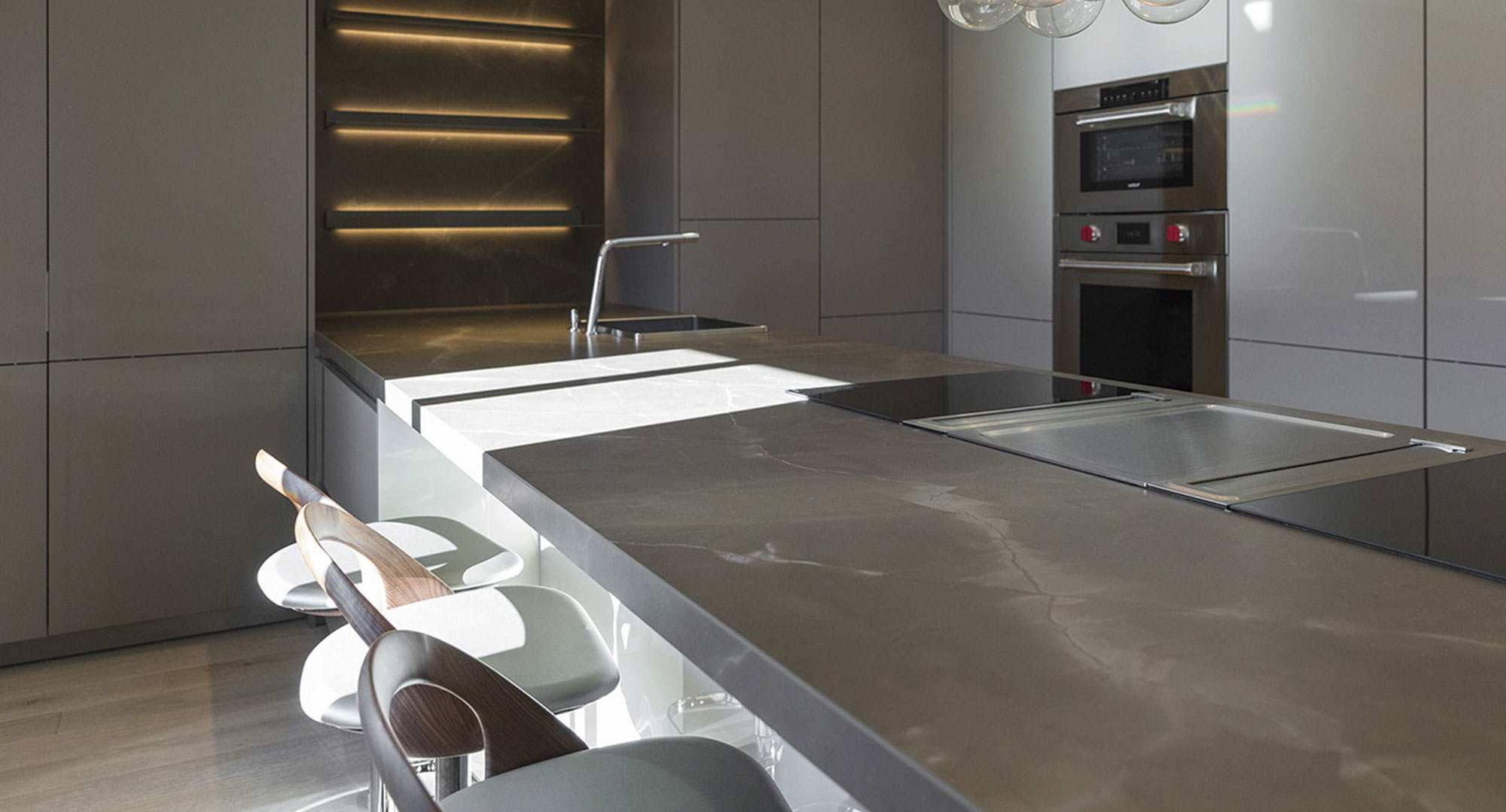 Conclusion
We hope you found this article helpful in understanding the benefits of the different worktop materials available. If you have any questions or would like to come and see a sample of our worktops, please don't hesitate to get in touch with us – we're always happy to help.